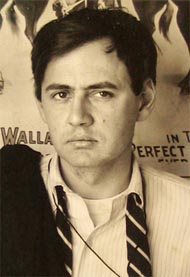 Chamberlain Peirce (full name Mellen Chamberlain Peirce) was born in Paris, France in 1930 of American parents both of whom were painters. His mother, Alzira Boehm, came from a family that had once homesteaded in Montana. She had gone to Paris to study art where she met his father, Waldo, a native of Bangor, Maine, who became a well known American painter. Waldo was a larger than life character, outgoing and with a marvelous wit and sense of humor. He was referred to sometimes as the American Rabelais and the American Renoir. Waldo was a close companion of Ernest Hemingway the two of whom spent much of their time together in Europe and in the winters vacationing in Key West, Florida where Hemingway had a home.
Chamberlain attended a variety of schools with his education culminating in his graduating from Brandeis University with a degree in English Literature. On leaving Brandeis in the early 1950's he decided to attempt to become a writer and in order to support himself took various jobs as a photographer's assistant in New York City until he became a full time photographer, running a studio which specialized in shooting pictures of products for catalogues and brochures. In 1970, married and with a young son, Nicholas, he and his wife, Gareth, moved to England in order for her to study law, where, several years later, their second son, Zachary, was born.
In his attempt to learn the basics of writing Peirce studied the work of Shakespeare. He wrote a few poems early in his career but quickly became convinced that the only way to express himself in the manner which he was seeking to was through writing drama. His first dramatic work, published in 1990, was Agamemnon Atriede, which he has since renamed Agamemnon at Troy. This drama relates some of the events, including the death of Hecuba, which took place in the Greek camp following the defeat of Troy, the main characters in which are Agamemnon, Odysseus, Menelaus, Helen, Andromache, and Hecuba. His next play was a one act comedy entitled Pure Hokum written in hope of interesting a particular theater which performed one act plays. Just recently Peirce added to the volume of Pure Hokem those early poetical works which he had not destroyed which he had written when he was just learning to write in the early fifties plus some poetic passages from his dramatic work: Planet of the Puppetmasters, published in 1993, which was a drama not written particularly to be performed. A movie script, Drifting, followed in 1995 which was written for the author's enjoyment rather than in the hope of ever finding anyone to show it to involved in the business of making movies. During these years he also published in 1990 an essay on the nature of art and subsequently added to it in a second edition in 1992.
In 2007, not having written anything for some years Peirce began to attempt to write poems. His first book of poems On the Beach and other poems 2007-2008 was published at the end of 2008, his second: Lament For A Dying Warrior and other poems 2009 was published at the end of 2009 and his third book The Moon Shone Over the Hill and other poems 2010, was published at the end of 2010.
All of Peirce's works, except for the book of essays which is temporarily not available, can be purchased at lulu.com.